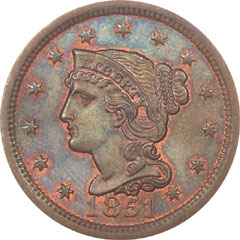 The Braided Hair Cent was struck each year at the Philadelphia Mint from 1839 to 1857. During the first year of the series, the prior Coronet Head Cents were also struck. During the final year of the series, the following Flying Eagle Small Cents were struck to replace large cents within circulation.
Mintage quantities stretch into the millions for all but one issue of the series. This makes the coins readily available across circulated grades with premiums for higher grade examples, particularly those which retain original mint red coloration. The lowest mintage occurred in the final year of the series when 333,546 pieces were struck. This issue commands a modest premium across all grade levels.
The table below indicates the mintage for each year of the series. Note that for the year 1839, the mintage figure accounts for production of both the prior Matron Head type and the Braided Hair type.
| Date | Mintage |
| --- | --- |
| 1839 | 3,128,661 |
| 1840 | 2,462,700 |
| 1841 | 1,597,367 |
| 1842 | 2,383,390 |
| 1843 | 2,425,342 |
| 1844 | 2,398,752 |
| 1845 | 3,894,804 |
| 1846 | 4,120,800 |
| 1847 | 6,183,669 |
| 1848 | 6,415,799 |
| 1849 | 4,178,500 |
| 1850 | 4,426,844 |
| 1851 | 9,889,707 |
| 1852 | 5,063,094 |
| 1853 | 6,641,131 |
| 1854 | 4,236,156 |
| 1855 | 1,574,829 |
| 1856 | 2,690,463 |
| 1857 | 333,456 |