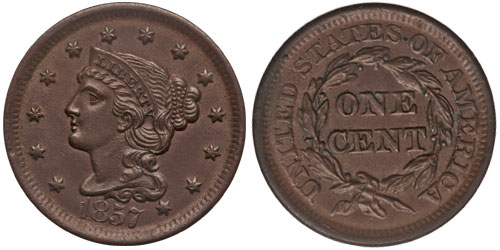 The 1857 Braided Hair Cent (Buy on eBay) represented the final year for both the series and the large cent denomination. The total mintage for circulation reached 333,456 pieces with an estimated 200 proof strikings. This issue represents the lowest mintage for any circulation strike of the series and also experiences increased demand due to its status as the last of the large cents.
Although there is a modest premium attached to this issue compared to other dates, many examples were saved and remain readily available for contemporary collectors. Some intense searching might be necessary to find an uncirculated piece with full mint red color. Examples graded MS64 Red have recently sold for prices around $5,000.
Higher grade proofs with red color are similarly in demand. An example graded PCGS PR65RD with CAC verification realized a price of $57,500 in March 2012.